Bali with its scenic beauty, idyllic beaches and vibrant culture is a hotspot for young couples to spend their honeymoon. With so much to explore and running short on time, it might be a hassle to decide romantic spots to spend some some time with your love one. So here we bring to you 10 best places to include in your Bali honeymoon package to let the love flow in on your romantic getaway.
Crystal Bay

Ubud

Git Git waterfalls

Uluwatu

Menjangan

Seminyak

Mount Batur

Kuta

Melasti Beach

Bali Marine and Safari park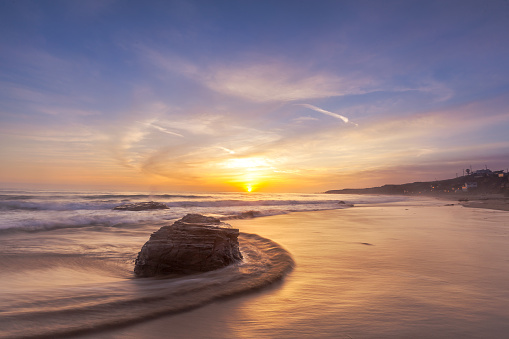 An amazing beach on the island of Nusa Penida, Crystal bay is the 'Honeymooners Paradise' in Bali. From fun filled adventurous activities such as snorkelling to lazing in the warmth under a parasol, you will find lots to do here. Rent out the snorkelling gear and set out on a journey to explore the vivid marine life of the island. With the turquoise blue water comin at you in gentle waves and the white sand spread out along the coast, the beauty of the pristine Crystal bay is matchless. Sip on some coconut water and enjoy the tropical warmth of the beach with your partner by your side on your Bali honeymoon package.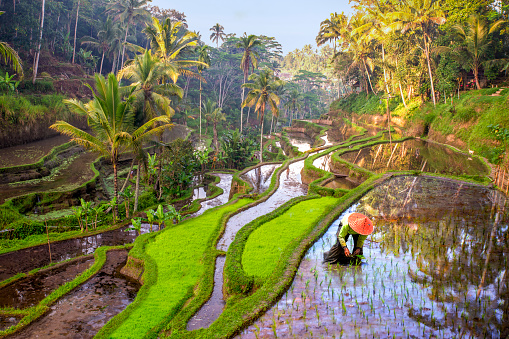 Home to ancient temples, royal palaces and green hillsides, Ubud is definitely one of the places you shouldn't miss in Bali. with some of the best instagram worthy sites located here, Ubud would be the perfect town to capture your honeymoon memories. The Ubud Monkey temple, the Blanco Museum and the Puri Saren Agung are some places worth visiting that will immerse you into the vibrant side of the Balinese culture. For an iconic view in Ubud, the Tegalalang rice fields and the Campuhan Ridge walk are worth exploring. Ubud is a city where no matter how much you plan there will always be more to explore. Hop onto a journey in this vibrant city and honeymoon in style.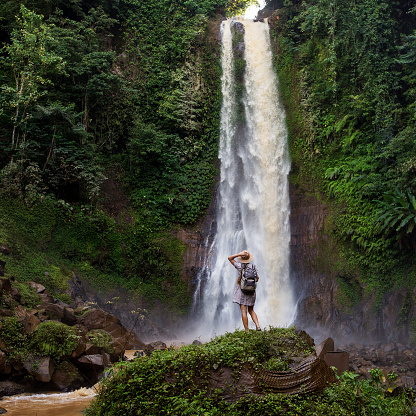 Located at a mere 10 km from the town of Singaraja, the iconic Git Git waterfalls is one of the buzzing sites in the city. Surrounded by high peaks and rice fields, the scenic beauty of this waterfall will leave you mesmerized. With a small easy hike towards the waterfall with a cold breeze soothing you from the warmth of Bali, this waterfall is exactly what you need on your honeymoon itinerary. You might also get your hands upon beautiful souvenirs sold by local vendors at this waterfall to take back as a memory.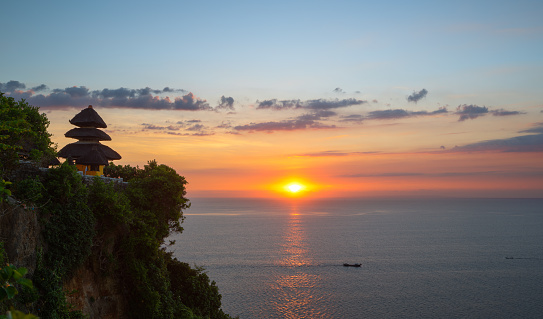 A romantic day at Uluwatu might be just what's missing in your honeymoon itinerary. With the secluded beaches of Balangan and Suluban, you might grab some alone time with your partner away from the tourist hustles. With the air filled with love this peninsular hotspot is a great place to spend some idyllic time by the beaches in silence and love.
If you're the type of couple whose idea of enjoying the honeymoon includes some adventure and fun then Menjangan is the place to be. The Menjangan island is a part of the West Bali National Park, hence home to a diverse variety of flora and fauna. Menjangan, lovingly called as the 'Divers Paradise' , you and your loved one could grab the opportunity to dive amongst the colourful coral reefs and vivid marine life of the gentle seas.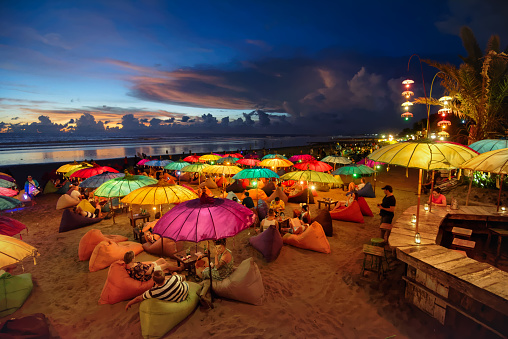 Well, if you're looking to romance in style and comfort with an upscale vibrant setting, Seminyak is just for you. Located on the South western coast of Bali, Seminyak is home to several luxurious spas and boutique hotels. Enjoy some private alone time by booking exclusive villas in Seminyak with private pools and enjoy the beauty of the Seminyak beach. While in Seminyak, enjoy the bustling night life of the city and party at Ku De Ta for some exciting fun.
One of the most popular tourist attractions in Bali is the famous Mount Batur. An active volcano at 1700m above the sea level, Mount Batur is a must-see sight in Bali. An enthralling adventure awaits you and your loved one on the hiking trail to Mount Batur. To experience the breathtaking view at Mount Batur with a romantic touch, start your hike at sunrise and catch a panoramic glimpse of the beautiful crater lakes and hot springs.
Located in Southern Bali, the urban village of Kuta is well known among tourists for its happening nightlife and breath-taking views. You and your better half could indulge in some free spirit shopping in Kuta, the village that is a witness to Balinese culture. With renowned sights such as Tanah Lot and Waterbom Bali, a day in Kuta would be a perfect addition to your honeymoon itinerary. Filled with beautiful resorts and villas, a little romantic time is guaranteed in Kuta for young couples.
Melasti beach is a beautiful untouched beauty located just below a limestone cliff in Ungasan, Bali. enjoy a day by the pristine blue waters, the white sand and the towering cliffs surrounding the cliffs. Rent a scooter and ride along the road leading to the Melasti beach made by cleaving the high cliffs thus providing a beautiful look to the area.
Bali Marine and Safari Park
If you and your partner are wildlife enthusiasts, then the Bali Marine and Safari park would be a great place to visit. Acting as a frontline to wildlife conservation in Bali, this park is home to Tigers, Hippos, Rhinos, Elephants and much more. The Mara River Safari Lodge provides safari themed accommodation and allows guests to observe the wildlife in close proximity.

With Bali being the most sought after honeymoon destinations for couples, it might be a perfect choice for you to spend some time with your loved one. At Pickyourtrail we offer Bali packages for couple that are nothing short of a bliss. We offer complete customization on your packages according to your needs to craft a perfect romantic honeymoon for you and your partner to enjoy.