A colourful garden can increase our spirits and make us happier. A little care and attention in the summer season are needed to make the flowers look fabulous and deliver months of pleasure throughout summer and autumn.
Plants and delicate and extremely sensitive to the environment and hence needs special care and protection in various weather conditions.
The summer season can be quite damaging to the plants if you don't take proper care and measures to save them from excess heat and water shortages.
Hence, it is necessary to prepare your plants for the summer season and provide the best protection. Here are some tips that you should consider to take care of your flowers in summer.
Watering summer plants
Plants that grow in beds and borders don't need any extra watering, depending on the weather. In such a case, watering the plants once a week is better than watering them every day. Water should always get deep down into the soil where the roots can use it, rather than splashing water just over the soil surface.
Plants that grow in containers are also a good idea. Even the rainwater may not be enough to provide a sufficient water supply. The compost should be evenly moist and should not dry out quickly. Overwatering often ruins the look of plants and can also damage them. You should regularly check the compost to see if it's moist or not. You can do this by inserting your finger into it and feel if it's dry or moist.
Feeding summer plants
The flowering plants of summer meds regular nutrients to keep them flowering. You are advised to use controlled-release fertilizer at the time of planting, and you may not need to feed further, but you should always check if additional nutrients are required.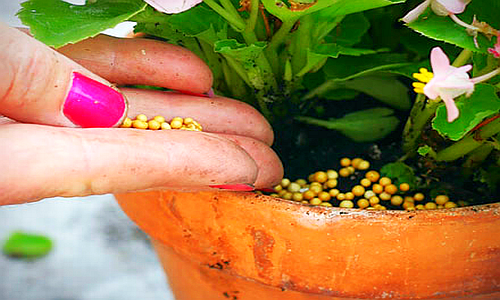 If you don't use a controlled-release feed, you'll have to repeatedly feed the plants with liquid fertilizer within 10-14 days to provide the food needed for continuous flowering.
Roses and the flowers in summer shrub are usually fed with specific rose fertilizer. Plants like lime-hating rhododendrons, camellias and other ericaceous plants are generally fed with specific fertilizer that contains all the nutrients, as these plants grow strong, healthy and flower profusely.
A splash of colour
Flowering plants add colour to a summer garden. Zinnia, marigold, bougainvillaea and roses are some common flowers, and you should take proper care of flowers in summer to make them bloom in your terrace garden.
Deadheading flowers
Plants produce flower only to produce seeds. If you remove the developing seed heads or the seed pods from plants, they can repeat flower or flower continuously, and then they flower again to produce seeds. Regular deadheads make sure that the plants keep on flowering.
You should note that you have to remove the seed head or seed pod and not just the flower itself.
Light and shade
Most of the plants indeed need sunlight; however, the rising heat in cities can damage the terrace gardens. If your plants are potted, you should move them to an area with balanced light and shade.
Concluding Notes
The flowers offer a brilliant display of summer bedding flower delivery Quezon City. Still, summer-flowering bulbs like dahlias, begonias and roses have the potential to flower their head ta the end of the month. If you take proper care of these plants, they can also continue their display into autumn. You should have a regular check of watering, feeding and deadheading. It just needs a quick 10-15 minute check every day.
So, regularly check for care for flowers in summer, and supply then with water, food and deadheading, and they'll reward you with a beautiful garden, and that's worth looking for.